To maximize the performance of any machine, it is very important to take care of your tools. It should be noted that attachments affect the longevity, productivity, fuel consumption and maintenance costs of your equipment.

Implement management
Managing your implements will help your business maximize production, limit downtime, and limit operating costs.
Many factors are involved in the proper handling of machine attachments, including the amount of contact surface of the tool, the angle used for the job, and the level of wear the tool is subjected to before it is replaced.
The larger the surface area your tools are subjected to, the harder your machine will have to work. This can cause undue wear and tear on equipment, resulting in inefficient use of horsepower and fuel, as well as increasing the amount of time required to complete the job.

Implement maintenance tips
By performing preventive maintenance on your machinery, you can anticipate the need for equipment repair and service, which helps you planning for downtime to avoid unexpected machine failures.
Before starting the inspection, it is necessary to clean the implements, which can also accumulate material remains. That is why when the work is done, a cleaning must be done to see other flaws that with dirt is much more difficult to detect.
Maintenance phases
At the time of maintenance, the following points must be verified:
– On the edges of the base: look for damage on the top and bottom of the back weld.
– At the tip of the bucket: the blade should be replaced if it has become worn at the bottom or has cracked in the cavity area.
– Damaged or missing retention pins: if they appear damaged or missing at sight, each pin must be tapped lightly. If the pin moves easily, it is time to replace the retainer.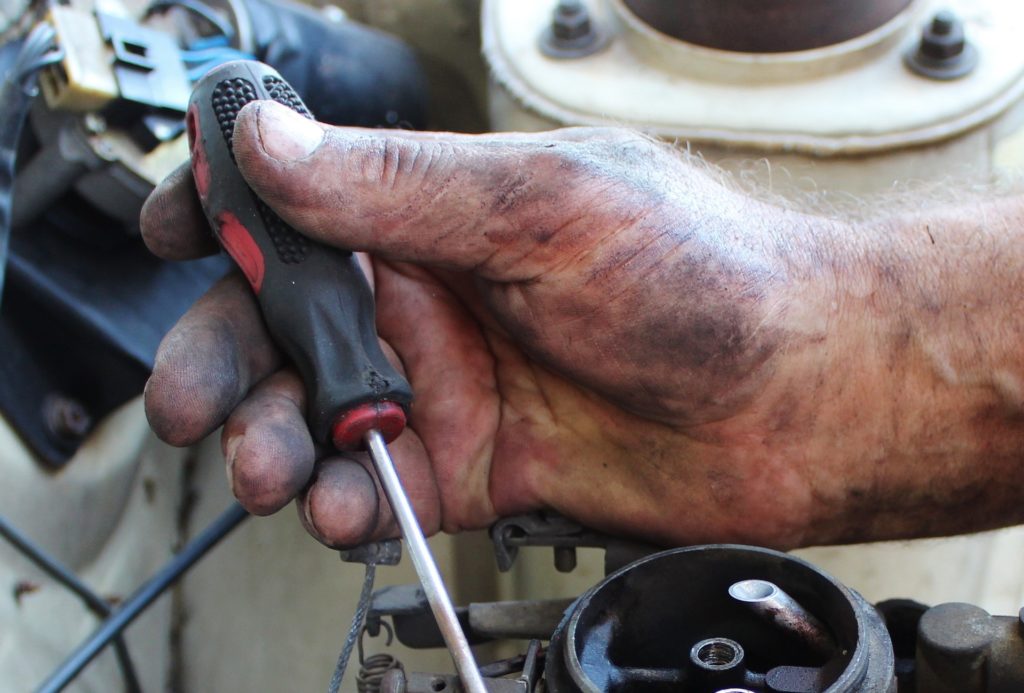 After having reviewed or made any of the recommendations given previously, the next step is to try to make the implement look like new. Its external appearance is also important to be able to better withstand the inclement weather and its working environment.
The lubrication should also be generous in the parts that have bearings and shafts.
If after the inspection the implements seem too worn and unusable it is necessary to change them.
Our advice is to replace them with second-hand and recycled ones from original machines, guaranteeing the quality of the work and thus getting the best performance from your machine.
Maintenance always has benefits in terms of lost time, work management and money.
At Taop Parts we are ready to help keep your equipment and work tools or accessories in optimal working condition, thanks to the availability of many implements and more original recycled spare parts.
Contact our sales representatives to find out how we can help you fix your problem and get back to work safely and efficiently.
Links of interest: